Efforts for environmental conservation
Corporate philosophy

Environmental management strategy
Main subject for environmental management (1)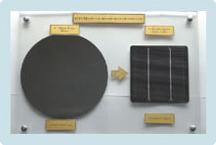 We collect used wafer from our users and conduct 100 % recycle by using them as reclaimed wafers, wafers for solar battery and aluminum additives purpose. Thus, we positively join in environmental load decrease activities by recycling wafers which have been disposed as industrial wastes.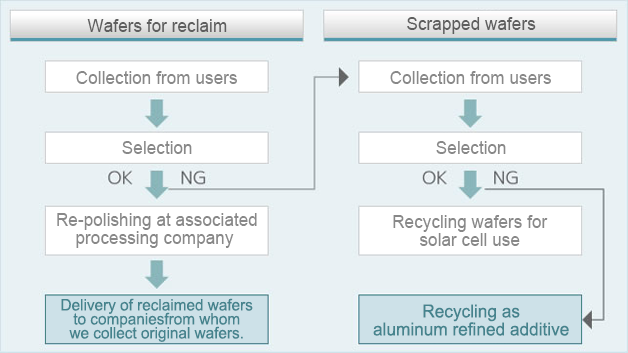 Main subject for environmental management (2)
The wafer delivery cases which we collect from each user are cleaned and reused by us.
With regard to unusable cases, we use them as transport cases between related processing companies.
With regard to outer cases, we have achieved a recycle by using plastic returnable box exclusively instead of using cardboard boxes of one-way use.
Thanks to our user's cooperation, the usage percentage of returnable boxes reaches 70% or more.
Main subject for environmental management (3)
Control of electricity consumption
We promote control of electricity for air conditioner by appropriate temperature management,
and extinction of unnecessary lights. As a result, we decrease A electricity consumption (saving economy) .
Swithing to ultra low emission car
We contribute to decrease emission of CO2 by changing our vehicles used for sales activity to ecological cars
(Government recommending green gasoline cars)
Reduction of usage of office work papers
We use recycle papers as copy papers which are essential for office work.
Further, we use backside of unnecessary copy papers in copying to reduce the usage of papers.
Environmental education to our staff
We educate our staff for environmental management in office unit based on educational program.
Further, we try to improve our staff's consciousness for environment not only in our office but also in their private lives.